How old does my child need to be for junior classes?
Six years and older (school age) up to seventeen years.  Some clubs may have older teenagers and experienced juniors in their senior classes.
How much does it cost?
Costs are different for each club, please contact your club or PCYC directly.
What do I wear, are bare feet okay?
Plain shirts and shorts.  Avoid baggy clothes or clothes with metal zippers, buckles, hard buttons, etc.
Bare  feet are okay.  Wrestling shoes are recommended but not compulsory outside of competition.
What do I need to bring?
A towel and water bottle.  Protective gear like mouth guards and soft knee guards are optional.
What do I need to know for the first class?
Fingernails and toenails must be cut short. Avoid training if you have any broken skin that can't be securely covered or if you have any skin infections like ringworm.
Can I cross-train in Wrestling if I do other sports?
Yes.  Please keep in mind that classes are run to prepare people for Wrestling competition.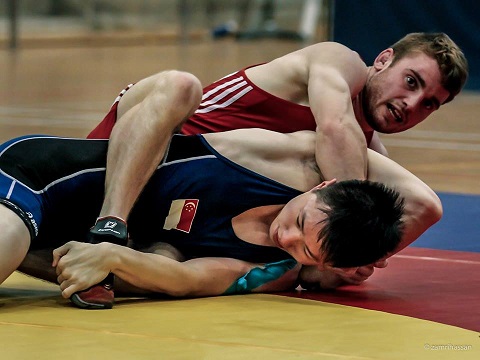 Can I train with a medical condition?
Please talk to your coach about any medical condition before your first session. The coach may not allow you to participate or only participate in a modified way if they feel that the risk to your safety is too high.
What is the best class for my child to attend?
Junior classes are run to suit boys and girls of all ages, sizes and fitness levels. 
Can I train senior Wrestling if I am unfit, older or have no experience?
All ages, fitness and experience levels are welcome but please speak to your coach before your first session.  Some classes may be more suitable than others.
Do you have a club in my area?
All affiliated Queensland clubs can be found here. If any new clubs or regions are added the website and facebook will be updated.